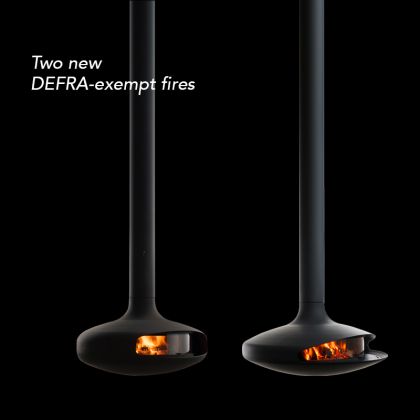 Two new DEFRA-exempt fires
TRAILBLAZING FIREPLACES
Focus is continuously pushing boundaries and developing new ways to improve technical and sustainable ways of designing fireplaces. Now the latest closed fires, Domofocus and Gyrofocus, have been exempted by DEFRA ensuring the highest standards of air quality for fireplaces throughout the UK. Quite simply, this means these fires can now be installed in Smoke Control Areas (see map) because they have low particle emissions, making a cleaner environment for all.
ABOUT DEFRA* REGULATIONS
This regulation bans the sale and installation of heating appliances that do not comply with particle emission thresholds in specific Smoke Control Areas as designated by UK government department DEFRA. The independent Danish testing laboratory Teknologisk Institut has confirmed the low particle emissions for these two closed models at all operating levels, allowing them to be DEFRA exempt.