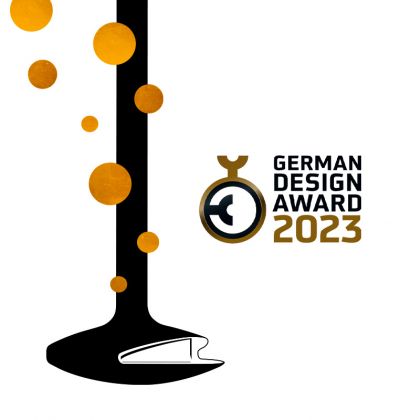 The Glazed GYROFOCUS wins Gold at the German Design Awards 2023
A PRESTIGIOUS WIN FOR FRENCH FIREPLACE MANUFACTURER FOCUS WITH ITS GROUNDBREAKING GLAZED GYROFOCUS

Focus took the Gold award at the German Design Award 2023 in the category Excellent Product Design - Design Classics and Re-editions. The new glazed version of FOCUS's preeminent Gyrofocus design, which has survived fashions and trends over the last fifty-plus years, has been awarded for its reimagining of a classic bringing it bang-up- to-date whilst making it environmentally and eco-efficient.

It was selected as 'the most beautiful object in the world' at the international Pulchra competition (Italy) in 2009 among 100 participants, exhibited at the Museum of Contemporary Art in Bordeaux in 1996, at the Centre National d'Art Contemporain in Grenoble in 1997 and at the Guggenheim in New York in 1998. Now validation comes from the prestigious German Design Awards.

An innovation strategy was launched under FOCUS's new management in 2015, with an ambitious objective: to convert open fireplaces into eco-efficient closed fireplaces in compliance with environmental regulations and all this without changing the original design.