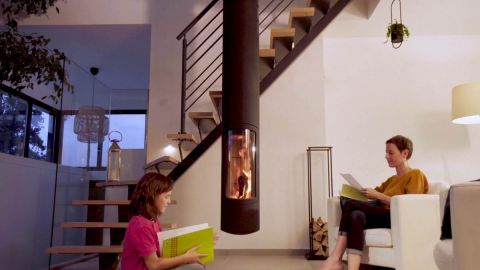 DESIGN ME A FIREPLACE
Discover the universe of Focus fireplaces
From a simple sketch, Focus fireplaces take form: true strokes of genius signed by Dominique Imbert. How are they made? Who are the experts that design and craft them? For 50 years, Focus has been forging a perfect balance between creativity and demanding technical standards.
Focus invites you to discover its universe, from the inception of the idea, through the administrative offices, to the production workshop, where savoir-faire comes into full play. Focus metalworkers custom-build the fittings for each stove and fireplace, making every model unique. The work of their hands brings to life the work of design and research, transforming the intangible into the tangible.

Dominique Imbert
Artist, designer, humanist and visionary
Dominique Imbert, the creator of Focus, was born in Montpellier in the south of France in 1940. After studying literature in London and Paris, he became, 'by accident', as he puts it, an ethnologist in Alaska and an assistant chef in Manhattan, before being awarded a Doctorate in Sociology at the Sorbonne and becoming a history professor in a Paris lycée. After teaching for four years, he decided he preferred shaping metal to moulding young minds and gave up the blackboard for an anvil and a welding torch.
Tucked away in the foothills of the Cévennes, in a medieval village in the garrigue north of Montpellier, he took up his new calling with ardour: forging, welding and sculpting, heating and shaping metal. What drove him to defy the fundamental elements in this way?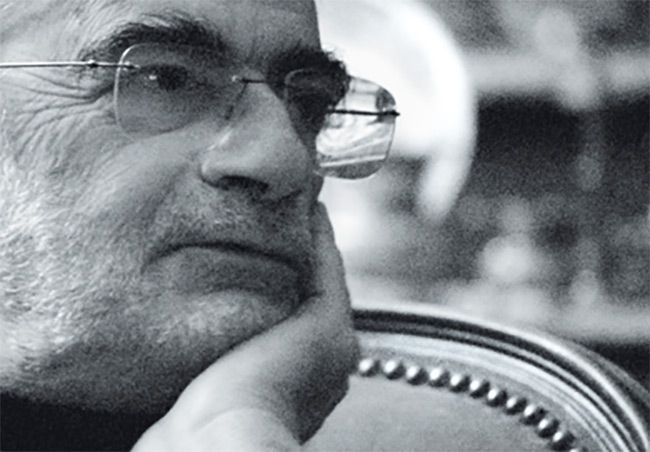 the focus design philosophy
International Design Conference, Kiev, Ukraine, 2001. Talk by Dominique Imbert, representing French designers
Am I a designer? My philosophy and practice of design
Am I a designer?
- I haven't been to design school.
- I haven't studied architecture.
- I've never taken a single drawing lesson in my life.
- I haven't studied painting, sculpture, fine arts or art history.
- I haven't done any of these things.
I did, however, learn to do the washing up with a Greek cook in an Indian restaurant in London for several long months. I also studied ethnology, and I spent some time in Alaska with the Inuits. I was awarded a Doctorate in Sociology from the Sorbonne in Paris (for 'The influence on human behaviour of aesthetics in the workplace'), which then led to my becoming a history professor in a lycée in Paris. So, when Focus is awarded with the National Prize for Creation by a French trade minister (Paris 1995), or when I see our fireplaces exhibited in the Museum of Contemporary Art in Bordeaux, Grenoble or Stockholm or at the Guggenheim in New York; when we win gold 'Trophées du Design' medals (Paris 1994, 1997, 2001) or are given the Innovation Prize at the Batimat trade show (November 1999), or when Lord Norman Foster asks me to design a fireplace for him, I wonder why. I wonder what has happened – if perhaps when I was young, like Obelix, I fell into a magic 'design' potion. I seriously ask myself if in the end it might actually be better not to go to school and thus have to learn everything by discovering it for oneself.
One thing that I can say is that when I was a teenager, on holiday in the country, I spent most of my time making furniture out of iron at the village blacksmith's forge. I also made shapes out of steel that I didn't dare call sculptures. This virus suddenly took hold of me again at the age of 27. I subsequently left Paris and set up my own workshop in the south of France.
Today, even with nearly a hundred people working for Focus, and exports accounting for more than 50% of our production (including Western and Eastern Europe, Japan and the United States), we still try to avoid the dual pressures of fashion and market forces. I have the extraordinary luck of being able to continue to follow my intuition and to work for pleasure.
It is through creating that I begin to understand what I'm looking for. What interests me is that which moves me, and I am moved by discovering, hidden in the depths of certain shapes and angles, the inner life, the soul of a material. It is about revealing a dimension beyond the cold, calculating and conventional context of our surroundings. I get immense pleasure in prising a meaning from shapes – a hidden meaning, a sense of poetry.
Without poetry, we exist without living.
For me, design is the expression of the tension between poetry and utility, between art and functionality, between emotion and rationality.
So, am I a designer ?
I can't answer that…
a firm belief in "Made en France"
Focus remains where it began life, in the village of Viols-le-Fort in the south of France, in the stone house renovated by Dominique Imbert. This is where he created the very first Antéfocus, and today it is the company's head office. It is also the workshop (L'Atelier Dominique Imbert) where Focus models are conceived and designed.
It is from this medieval hamlet in the midst of the Mediterranean garrigue that Focus exports its fireplaces all over the planet.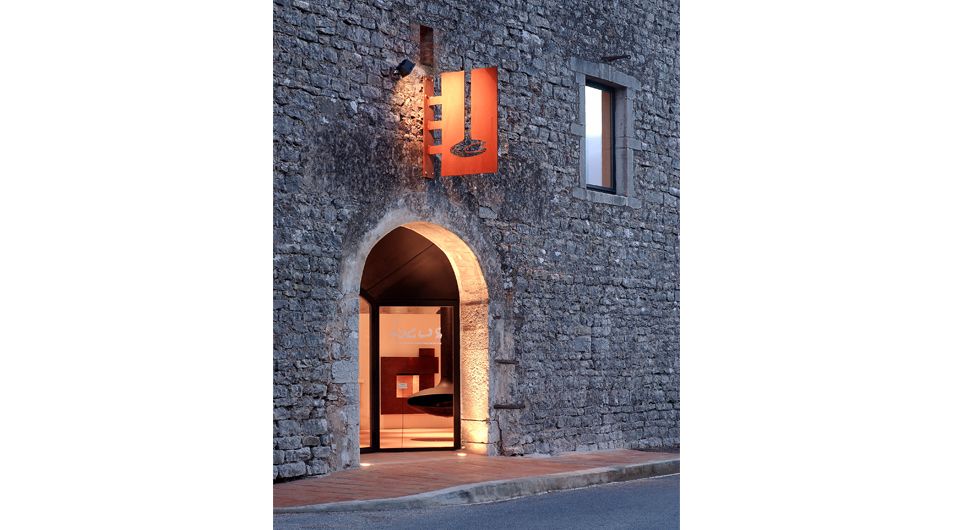 The workshop
FOCUS is, among other things:
The trademark of Atelier Dominique Imbert SAS
The original model Antefocus, created in 1967
The design icon Gyrofocus, created in 1968
A range now consisting of 60 fireplace models
A sales turnover worth 10.5 million euros in 2017
A global distribution network spanning 55 countries
But Atelier Dominique Imbert is above all the continuing adventure of a small workshop in the south of France gradually gaining the trust and loyalty of all its collaborators as well as the recognition of its peers and the public around the world.
For ethical reasons, all Focus models are made in France and a number of them are highly energy-efficient, while retaining the characteristic, original and contemporary design of the Focus trademark.
the production site
The extension of a boilermaking workshop founded in 1892, our production site, Theus, has more than 100 years of experience with steel. A subsidiary of Atelier Dominique Imbert, Theus is located in Cavaillon in the department of Vaucluse in France, on the main north–south motorway and rail link.
At the heart of one of the most important logistical centres in southern Europe and occupying an area of 22,000 m², Theus offers our international clients
• 7,800 m² of workshop space with state-of-the-art multifunctional production equipment,
• a department with powerful 2D and 3D software for computer-aided design, allowing the team to conceive and develop blueprints as well as design objects with complex shapes,
• 400 m² of office and showroom space in which over 30 Focus models are displayed as tangible examples of the site's savoir-faire.
Focus is sensitive to all aspects of sustainable development, and it is a point of pride for us that all our products are 100% made in France. Focus chooses his suppliers and subcontractors for their technical skills as well as their proximity to the production site.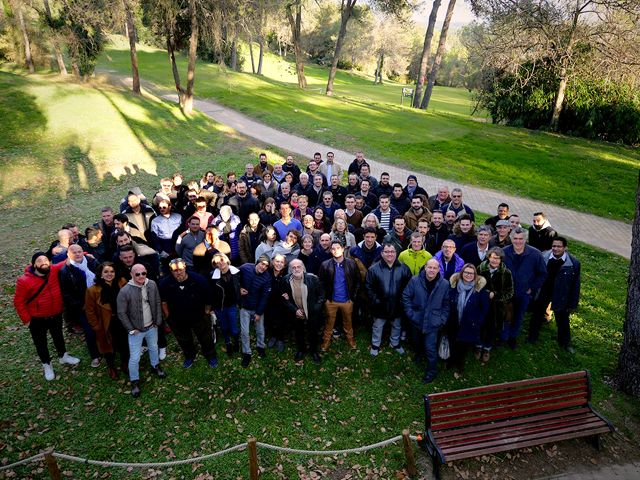 new directions
Leading a team of more than 80 people
In the spring of 2015, Dominique Imbert appointed two people with long experience at Focus to lead the company: Laurent Gaborit, the former Sales Director for France, and Jean-Marc Chalier, the former Financial Director. Mathieu Gritti and Jean-François Perrier, in charge of the production site in Cavaillon, bring their expertise and their conviction in products 'Made in France' to this motivated team. Dominique Imbert, the President and founder of the company, remains responsible for the design and conception of the models. He unreservedly backs the new spirit and motivation that drives the management team and its belief in audacity, French savoir-faire, creativity and innovative management.
key dates
The creation of the first Focus fireplace: the Antéfocus
1967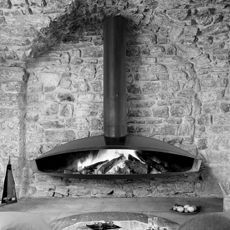 "It was very cold in 1967 in the farmhouse I was renovating. With bits of metal salvaged from here and there, I constructed a shape to make a fire …" DI
The creation of the Gyrofocus
1968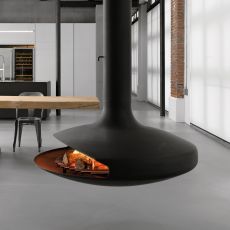 The world's first suspended, pivoting fireplace
Focus's first Batimat trade show in France, exhibiting 1 sole model
1975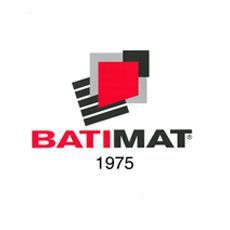 This was the Gyrofocus's first trade fair, where it was presented in a 1.5 m x 1.5 m stand.
"I had to put my chair in the aisle. People made fun of this pivoting creation suspended from the sky." DI
100 models sold in one year
1980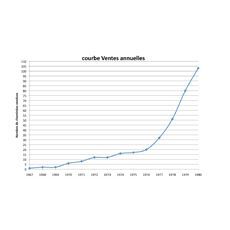 It would take 10 years to sell the company's first 100 fireplaces, but in this same year Focus received 100 orders in 1980 alone.
From freelance craftsman to the company 'Atelier Dominique Imbert' with its four employees
1985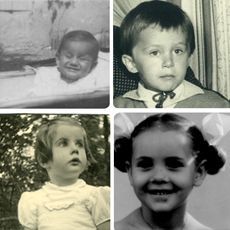 "From little acorns grow mighty oaks."
Focus in Japan
1988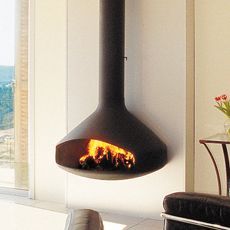 Focus wins its first international bid in a competitive field including far bigger American and Swedish companies. The Paxfocus, adapted to construction standards to withstand earthquakes and typhoons, was chosen to furnish each of the 301 apartments in a luxury apartment complex in Japan.
Second Japanese contract: 121 Edofocus fireplaces installed in Minami Hakone near Mt Fuji
1990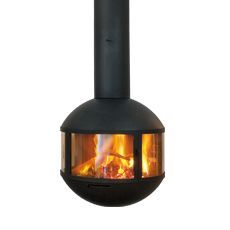 The Edofocus, the first fireplace with curved glass panels, was created for this project.
This model was named after the former capital of Japan, Edo.
Acquisition of Focus's production site: Theus
1993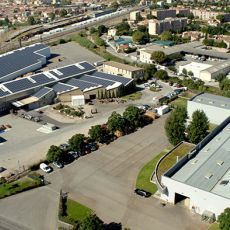 The metal workshop producing Focus models 'Theus' was taken over by Atelier Dominique Imbert.
The opening of a showroom in Montpellier
1994
The showroom in the village of Viols-le-Fort, where Focus was founded and remains today, proved too out of the way, so a showroom in a historic building in the centre of the nearby city of Montpellier was opened in 1994 (2 rue Henri Guinier – +33 (0)4 67 92 50 50).
French Award for Creation
1995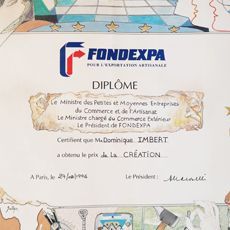 Jean-Pierre Raffarin, French Minister of Trade and Crafts, awards a national prize for creation to Dominique Imbert.
The Gyrofocus is exhibited in the Contemporary Art Museum of Bordeaux ...
1996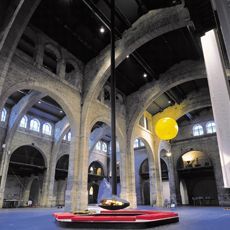 The Contemporary Art Museum of Bordeaux - Installation Xavier Veilhan
Focus celebrates the sale of its 10,000th model
1998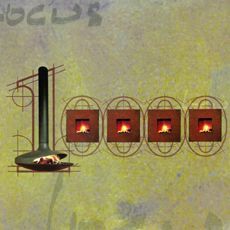 "Ten thousand models, 30 years of life …" DI
Collaboration with the architect Sir Norman Foster
2000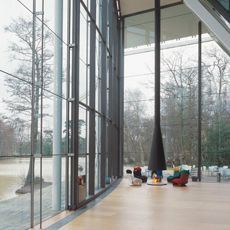 Focus creates a unique fireplace (which will become the predecessor of the Filiofocus) for the headquarters of Electronic Arts in England, as well as designing a custom-built fireplace for Sir Norman Foster's private home.
The opening of a showroom in Serris Val d'Europe near Paris
2006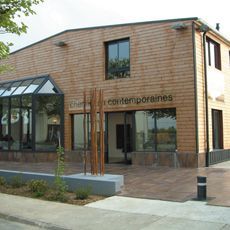 Focus's growing reputation makes a showroom near Paris indispensable, so a large industrial space in Serris is adapted to showcase its models (6 rue de la Fontaine, Serris – +33 (0)1 60 43 29 34).
The Gyrofocus is voted the 'World's Most Beautiful Object' in Italy's Pulchra Awards
2009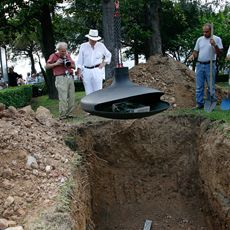 After being voted the piu bella cosa del mondo, a Gyrofocus was buried in a 'future museum' time capsule.
The first collaborative effort with an external designer
2011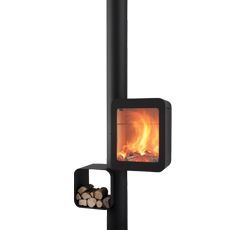 "The wood stove leaves behind its blocky, stolid image to offer a lighter, more off-beat design." Thibault Désombre, designer
This model won Germany's Red Dot Award in 2014.
Today it is available in both wood-burning and gas versions.
Focus celebrates the sale of its 50,000th fireplace
2014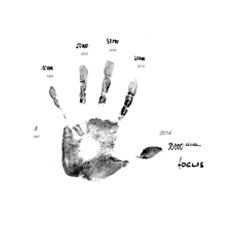 Who would have thought that the Antéfocus created in 1967 by Dominique Imbert for his personal use would be followed by 50,000 others?
Launch of the first suspended fireplace with a balanced flue
2015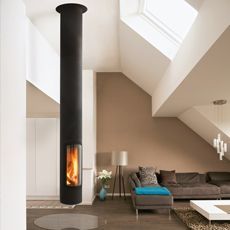 With its new technology based on two concentric flues, Focus launches the first central, suspended fireplace compatible with low-energy buildings.
New range of gas fires
2016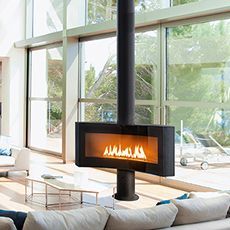 The iconic Gyrofocus is adorned in white
2017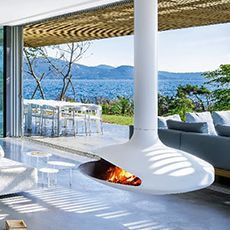 'The play of light and shadow reflecting off the white surface lends the metallic body an airy lightness, transforming it into a veritable sculpture of light.'
Dominique Imbert
50 years
2018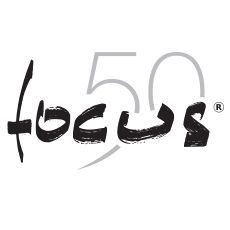 Focus celebrates its 50th anniversary
New direction
2019
After 50 years at the head of the company, Dominique Imbert appoints two people with long experience at Focus as its new directors: Laurent Gaborit and Jean-Marc Chalier. Dominique remains responsible for design and R&D in close collaboration with the design office at the Théus production site in Cavaillon (Vaucluse).
awards and honours
Best artist-craftsman in the Languedoc-Roussillon region (1976)
Selected for the Premio Design Italiano (Rome 1992)
Design and Innovation award winner (Toulouse 1993)
National Prize for Creation, awarded by the French Trade Minister (Paris 1995)
Innovation Prize at the Batimat trade show (Paris 1999)
Export Award at 'Avenir 2000' (Paris 2000)
Selected by Norman Foster and Associates (London 2000)
First prize 'Concours de l'Excellence' by the Chamber of Trades (Montpellier 2001)
3 Gold 'Trophées du Design' at the Batimat trade show (Paris 2001, 1997, 1994)
Selected as one of the 'Top 100 best French companies' (first in Languedoc-Roussillon) (L'Entreprise magazine, July 2003)
Silver medal at the 'Concours du Design' (Stuttgart 2004)
4 Silver 'Trophées du Design' at the Batimat trade show (Paris 2007, 2005, 1995, 1993)
Winner in an online competition for homesolute.com (Germany 2009)
Nominated for the 'Observeur du Design' prize (Paris) : 2007, 2009, 2010, 2011, 2012, 2014, 2017(Cubifocus)
First prize for 'World's most beautiful object (Pulchra design awards, Italy, 2009)
Nominated for the 'Design Award of the Federal Republic of Germany' : 2010, 2011, 2014, 2017(Slimfocus)
Reward for the" most inspired creation of Helsinki Design Week " on 2010
Superflame Prize 2009 of polish review Świat Kominkow for the overall achievement.
Prix de la Performance - Journal "Les Echos" - Montpellier 2011
Star 'Observeur du Design (Paris 2002, 2013)
Winner Interior Innovation Award 2014 and 2015 (Germany)
Winner Reddot award 2014 (Essen - Germany)
Winner of the German Design Award in Gold 2017 - Slimfocus
Hearth & Home exhibition (Harrogate - Angleterre)
Curvifocus: Winner "product of the year 2017" and "gas appliance of the year"
Winner of the German Design Award in Gold 2019 - Boafocus
Winner of the NAN ARQUIRECTURA in 2019 (Spain) – Simfocus
Hotel Designs Brit List Awards 2020 (UK) - Focus EcoDesign Ready Fireplace « Highly Commended »
International Trade
exports account for 60% of sales
Focus around the world: exports account for 50% of sales
Aside from the legendary Gyrofocus, the whole Focus range has crossed the borders of France in recent years.
The international enthusiasm for Focus fireplaces means that today exports account for 60% of sales.
If a map were drawn of the locations around the world with the most connoisseurs of Focus fireplaces, first place would go to Europe, with Italy in front (a country celebrated for its taste in design), then Germany, Belgium, Switzerland and Britain, as well as locations farther afield: Australia, Russia, the United States, Canada, Japan and, more recently, China.
Gyrofocus in a Luxurious restaurant to the ski resort of Niseko-Hokkaido / Japan