EMIFOCUS open
wall mounted fireplace
For interiors where size is an issue, the sober simplicity of the smooth, spherical Emifocus makes a strong impression in a small space.
The wall version of the free-standing Bathyscafocus, this model's elegant yet discreet form, heat efficiency and easy installation combine to create an intimate and warm atmosphere in a range of different settings, from mountain ski chalets to city studios.
The crackling of fire is one of the highest forms of conversation
Discover this model in augmented reality
Characteristics
characteristics wood-burning version
This wall-mounted version has an open hearth and a heat exchanger.
Flue and other adaptation parts are made to measure
Paint: matt black
Also available as outdoor version
Emifocus open, rear outlet (DA)
Dimensions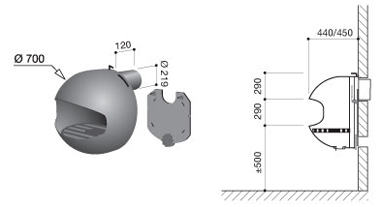 Emifocus open, vertical outlet (DV)